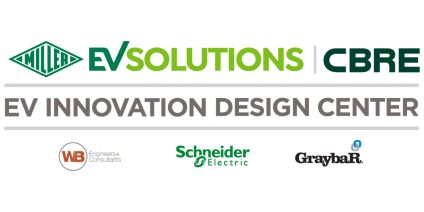 Miller EV Solutions and CBRE Announce the Electric Vehicle Innovation Design Center Grand Opening
: A First-of-its-kind Interactive Public Facility for EV Technology and Training.
JACKSONVILLE, Fla.–(BUSINESS WIRE)–Miller EV Solutions, a pioneering leader in the electrical contracting industry, in partnership with CBRE, is thrilled to announce the launch of the Electric Vehicle Innovation Design Center (EVIDC). This groundbreaking initiative embodies Miller EV Solution's unwavering commitment to advancing electric vehicle (EV) technology, fostering sustainability, and creating a more connected future.
City Council President Ron Salem and other esteemed city officials were in attendance to mark this momentous occasion. The event served as an opportunity to introduce the EVIDC project to the public and showcase the transformative potential it holds for the future of electric vehicle charging.
With a history dating back to its founding in 1928, Miller EV Solutions has consistently demonstrated its dedication to fostering cutting-edge initiatives aligned with the evolving landscape of sustainable energy and transportation. The EVIDC project reflects their commitment to embracing the challenges and opportunities presented by the electric vehicle solutions industry. The EVIDC is poised to revolutionize sustainable solutions for EV and set new benchmarks in the EV evolution. As a groundbreaking facility strategically located in Jacksonville, the EVIDC is more than just a physical space; it's a state-of-the-art facility of innovation that will transform the way we approach sustainability. It's a game-changer that will significantly reduce Jacksonville's carbon emissions by a staggering 8,390 tons annually.
At the heart of the EVIDC's mission is to facilitate hands-on learning, testing, and data collection in the realm of EV charging technology. This visionary facility offers a unique opportunity for visitors to immerse themselves in the world of EV and microgrid solutions, exploring a wide array of technologies. The EVIDC houses a comprehensive range of equipment, from Level 2 (AC) chargers and ultra-fast (DC), Level 3 Chargers, and pull-through heavy duty charging provided by various respected charger manufacturers to the latest in sustainable technologies, including inductive charging, solar canopies, and battery storage. This state-of-the-art center is a platform for change, providing invaluable, transparent use-case data to assist clients and stakeholders in making informed decisions on their journey towards sustainable transportation. With a commitment to reducing carbon emissions by an impressive 8,390 tons annually, the EVIDC is poised to transform Jacksonville into a pioneer in electrification and environmental responsibility.
The Electric Vehicle Innovation Design Center is committed to transparency and innovation, offering visitors a unique opportunity to "try before they buy," making informed decisions on the EV charging solutions that suit their unique objectives. The facility goes a step further by providing not only real-time data-driven evidence of consumer use but also a hands-on training and learning environment for facility managers and electricians.
As a publicly available, client-driven center, the EVIDC aims to break the barriers to EV adoption by fostering confidence and knowledge among clients, reducing cognitive dissonance, and ultimately accelerating carbon reduction efforts. With the support of partners like Miller EV Solutions, the leading EV Solutions Provider in the U.S., the Electric Vehicle Innovation Design Center is set to drive innovation, growth, and sustainability in the EV market, making it a game-changer not just for Jacksonville but for the entire nation.
The EVIDC project's goals include fostering the development of actionable plans for ensuring the continuity of EV charging infrastructure and establishing a standardized methodology for assessing charging station performance and reliability. By providing a real-world environment for collaboration, testing, and training, the EVIDC advances charging infrastructure. In close cooperation with CBRE, the site will provide a testing ground for a wide range of charging hardware, which will be managed on multiple EV charger management software platforms as part of CBRE's remote operating center. CBRE will also use the EVIDC extensively as a training facility for its service technicians and project engineers.
The project approach involves a collaborative effort with partners, including OEMs, software providers, Schneider Electric, Graybar, WB Engineers+Consultants and community partners such as North Florida TPO, the Clean Fuels Coalition, Jacksonville Transportation Authority, and JEA. These partnerships provide the essential equipment and expertise required.
The EVIDC's outcomes include equitable EV adoption and economic growth, a diverse and inclusive EV ecosystem, resilient charging infrastructure, demonstrated community-driven models, enhanced local collaboration, and contributions to national goals.
The facility emphasizes community and labor engagement, investments in job quality and workforce continuity, advancements in diversity, equity, inclusion, and accessibility, and contributions to the Justice40 Initiative. These aspects ensure that the project benefits the local community and addresses social and environmental inequities.
Miller EV Solutions, with its extensive experience in the electrical contracting industry and a commitment to shaping a more sustainable future, is uniquely qualified to spearhead the EVIDC project. Their expertise, national reach, and collaboration with the IBEW and NECA position them well for this transformative initiative.
For more information about the EVIDC project, please visit: https://MillerEV.com
Contacts
 For media inquiries, please contact: Nicola Hebert, nhebert@mecojax.com, 904-917-3198