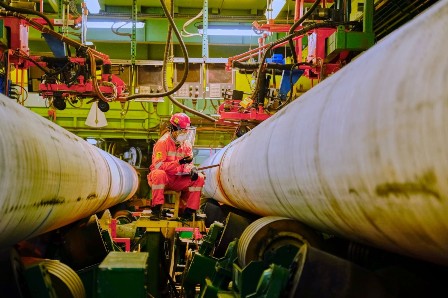 Motorola Provides Communications Technology for Trans Adriatic Pipeline
 Motorola Solutions is providing the Transmission System Operator for the Trans Adriatic Pipeline (TAP) with a digital radio solution to secure voice and data communications along the multinational route of the gas pipeline. The 878km pipeline is vital to the European economy and has transported more than 2 billion cubic metres (bcm) of natural gas to date from Azerbaijan into Europe. For its cross-border operation, TAP requires seamless communication solutions to be able to connect teams at any time.
---
The 38-site Motorola Solutions MOTOTRBO Capacity Max Trunked Radio System has been deployed along the entire pipeline which crosses Greece, Albania and the Adriatic Sea, before coming ashore in southern Italy. The advanced communications solution enables the system operator to seamlessly manage and control TAP's multinational operations and maintenance teams from a single workstation. Fully integrated with TAP´s telephony and equipment monitoring systems, it provides transparent and efficient workflows.
---
"Any communication equipment used in the natural gas sector must adhere to the highest security standards to keep workers and operations connected", said Michael Kaae, regional vice president of Europe at Motorola Solutions. "Our highly scalable and flexible solution combined with a fleet of ATEX radios for the most challenging environments provide TAP with a reliable and robust solution to meet the complex demands of working on live gas sites."
---
The TAP deployment represents Motorola Solutions' continued leadership in resilient and secure communication solutions for hazardous environments. Rio Tinto in Australia andPetrobras in Brazil are among the recent deployments benefitting from our advanced solutions for the energy sector.
---
Information Source: Read Full Release ..–>
---
Press release submitted by:
Imogen Laurie, Administrative Assistant, London Technology, www.edelman.co.uk