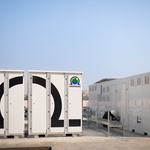 New Ohmium Appointment Delivers on Sustainability and Safety Strategic Priorities
Rich Massie Joins Ohmium as Vice President, Safety and Sustainability Following a Successful Thirty-year Career in the United States Navy
FREMONT, Calif.–(BUSINESS WIRE)–#greenhydrogen—Ohmium International, a green hydrogen company that designs, manufactures, and deploys advanced Proton Exchange Membrane (PEM) Electrolyzer systems, today announced the appointment of Rich Massie as Vice President, Safety and Sustainability. In this new role, Massie will further strengthen Ohmium's safety culture globally and deliver an ambitious and robust sustainability strategy for the company following a successful Series C investment raise of $250 million in April.
Massie joins Ohmium with extensive experience in safety and sustainability, honed during thirty years spent in the US Navy, including three years commanding the submarine USS Maine where he fostered a safety-first culture across critical systems, including nuclear propulsion and missile technology. He also led a submarine squadron, reinforcing a safety culture among submarine crews who operate with naval special warfare teams (SEALs).
Most recently, he led Naval Base Kitsap Washington State, where he was responsible for safety, security, and environmental compliance. During his time in the Navy, Massie has worked extensively across the US, EU and NATO regions and has significant deployment experience across the Middle East and Indo Pacific regions.
"It's a very exciting time to be joining Ohmium to focus on safety and sustainability in this new role. I'm proud to be joining a company whose modular technology is decarbonizing hard-to-abate sectors and tackling climate change – one of the greatest risks of our time. I'm looking forward to helping Ohmium deliver on its international growth ambitions, while doing this in a safe and sustainable way" said Rich Massie, Vice President Safety and Sustainability at Ohmium.
"It's fantastic to see that Ohmium has designed its modular PEM electrolyzers with a priority on safety-first principles. By adopting a strategy of compartmentalizing the hydrogen production, the oxygen process and the power electronics, we are providing clients with a safety-oriented solution for the production of green hydrogen."
"I'm delighted that Rich has joined our organization and I look forward to working with him as we execute on our rigorous safety standards and sustainability ambitions across our growing global footprint." said Arne Ballantine, CEO of Ohmium International. "Rich has considerable experience of delivering across these critically important areas for the US Navy and he will be instrumental in enabling Ohmium to deliver on our mission to accelerate the adoption of green hydrogen to decarbonize hard-to-abate sectors in safe and sustainable ways."
---
About Ohmium International
Ohmium International enables industries to deploy green hydrogen for a sustainable future. The company's suite of electrochemical products helps customers achieve their sustainable energy goals in industrial, transportation, and energy projects. Ohmium is headquartered in the United States, with manufacturing in India and operations worldwide.
About Ohmium's PEM Electrolyzers
Ohmium manufactures modular interlocking PEM electrolyzers that produce pressurized high-purity hydrogen, making it an ideal energy source for hard-to-abate sectors such as energy, heavy industry and transport. Individual, compact electrolyzers can be easily stacked to significantly reduce installation and maintenance costs and the standardized design enables rapid scaling from megawatts to gigawatts. Ohmium's patented electrolyzer technology features dynamic ramping capabilities, making it extremely suitable to pair with renewable electricity.
For more information, please visit www.ohmium.com
Contacts
Antenna
Theo Carroll – Account Supervisor
Tel: +1 646 597 6328
Email: Ohmium@antennagroup.com
Ohmium International
Rachel Mountain – Director, Global Marketing
Tel: +44 (0)7446733741
Email: rachel.mountain@ohmium.com