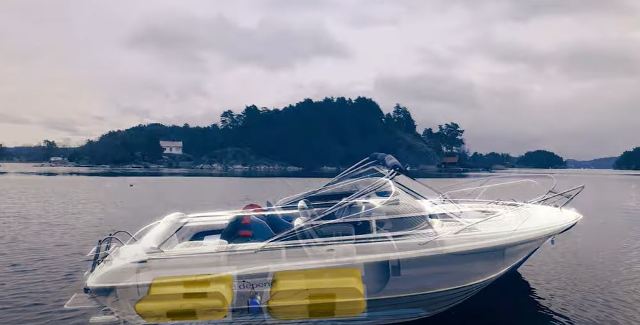 Antisink unveil new buoyancy aid
Norwegian maritime company Antisink has turned to Luxfer for its industry-leading lightweight and durable gas cylinders, to deliver a revolutionary technology that will help prevent shipwrecks and save lives at sea.
Growing up near an open stretch of sea in southern Norway, Antisink's CEO Geir Karlsen was witness to the heartache of what he saw as too many boats going down and too many people lost at sea for no reason. In the 1990s, he began to interrogate a solution. "When a boat's sinking under you, and you only have the nose above water, you're not going to see its passengers in choppy waters," Geir says. "I knew some of these people who were lost at sea. Men, women and children dying – all because they couldn't be found before it was too late."
"All of those people could probably still be alive had their boats managed to stay above the water. If a boat is still floating we can easily find it, and its passengers. So, I started to think, what if we could devise a way to keep the boats and the people afloat?"
Fast forward 30 years to January 2017 and Antisink was founded with one goal in mind: to save lives. And with a market of 25 million leisure boats worldwide and around 2.5 million fishing vessels, the potential of risk to life was – and continues to be – vast. Based in the Norwegian coastal city of Kristiansand, Antisink has since revolutionised boat safety with its life-saving system – a self-inflating buoyancy bag designed to protect the vessel and its passengers at sea. Securely fastened within the boat's hull, the system will keep a boat afloat for weeks, significantly reducing the chances of hypothermia-induced injuries, saving lives and helping reduce environmental damage.
Geir explains: "if the boat goes down, you will likely freeze to death. But if you can stay in the boat, you can keep warm and survive for hours, or even call for help instead of being stuck down in the water on a raft.
"So, we designed a system that can be installed within the boat itself completely stopping it from sinking. It comprised three main components: the buoyancy bags to provide lift, big foam canisters and hoses to join them together."
---
Information Source: Read More
Submitted by: Kelly Marshall-Hill, Director & Co-founder, The Tonic Communications,
Oil and gas, press , | Energy, Climate, Renewable, Wind, Biomass, Sustainability, Oil Price, LPG, Solar, Electric,