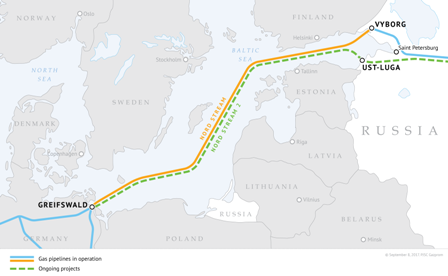 US, Germany agree deal on Nord Stream 2 gas pipeline to Europe
The US and Germany announced a deal to allow the completion of Russian gas pipeline to Europe without the imposition of further U.S. sanctions.
Under the terms of the deal, the U.S. and Germany committed to countering any Russian attempt to use the Nord Stream 2 pipeline as a political weapon.
---
"The United States and Germany are united in their determination to hold Russia to account for its aggression and malign activities by imposing costs via sanctions and other tools," they said in a joint statement that covered Nord Stream 2 as well as Russia's support for separatists in Ukraine.
"Should Russia attempt to use energy as a weapon or commit further aggressive acts against Ukraine, Germany will take action at the national level and press for effective measures at the European level, including sanctions, to limit Russian export capabilities to Europe in the energy sector," it said.
---
The 1,230km (764 miles) pipeline will double Russian gas exports to Germany. Ukraine stands to lose about $3bn (£2.2bn) a year in gas transit fees but Ukraine will get $50 million in green energy technology credits and a guarantee of repayment for gas transit fees it will lose by being bypassed by the pipeline through 2024, Under the terms of the deal, according to the Associated Press.
---
Information Source: Media Reports