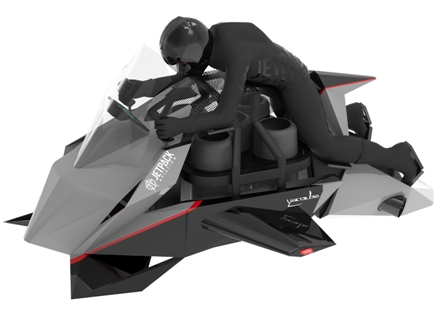 Now we have the world's first flying motorcycle
Jetpack Aviation (JPA)'s Recreational SpeederTM represents the ultimate in personal transport. It is fully VTOL (vertical take off and landing) capable and can effectively take off from anywhere the size of a small car space. Originally intended only for Military, Government and Commercial clients JPA is also designing a version of the SpeederTM for the recreational market. It will be lighter than most 125cc motorcycles, fully stabilized and simple to fly.
---
The SpeederTM can either be piloted or flown fully autonomously. It can transform from a pilot carrying craft to cargo craft in less than 10 minutes by sliding off the pilot seat and sliding on the cargo pod or litter basket.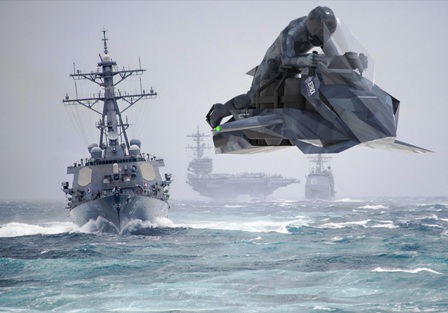 Highlights:
Flying the Recreational SpeederTM will be just like riding a motorcycle but in the sky!
Being fully stabilized means that minimal pilot training will be required.
It will take off from practically anywhere and will fly at over 150 mph*
It will also fly at up to 15,000ft
Fuel: Kerosene/JetA/diesel
Piloted/Fully autonomous: Either
---
Jetpack Aviation (JPA) plan to build two versions of the Recreational SpeederTM: The Ultralight Version and the Experimental Category Version.
The Ultralight Version (UVS) will not require a pilot's license to operate – all training will be provided by JPA or one of our authorized training centers. The Ultralight version will be limited to carrying 5 gallons of fuel and to 60 mph flying speed.
---
The Experimental Version (EVS) will require a private pilot's licence to fly and will have no fuel or speed restrictions. As the owner/pilot of the EVS we will host you in our manufacturing facility and you will be part of the aircraft completion process. This will satisfy the FAA rules around Experimental aircraft production.
---
Full training will be provided at the Jetpack Aviation (JPA) training facility in California where we remain the only FAA authorized jet-VTOL instructors in world
---
Information Source: Read Full Release ..–>