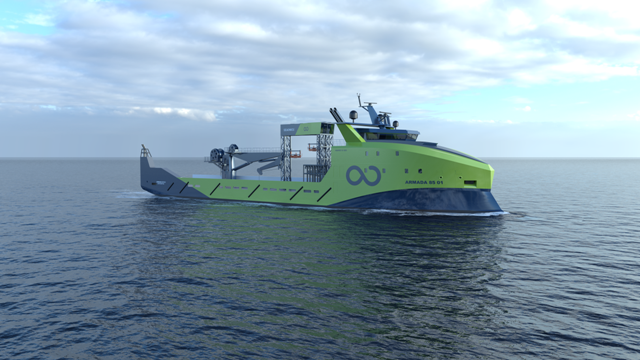 Ocean Infinity Orders 85 metre Robotic Vessels From VARD
Ocean Infinity has contracted VARD for the design and construction of a new series of six multi-purpose offshore vessels, all of which will be operated from shore and will eventually utilise green ammonia as fuel.
This landmark order of six, 85-metre, optionally crewed robotic vessels will take Ocean Infinity's remote vessel fleet to 23 vessels – the largest in the world.
With Ocean Infinity's control infrastructure and remote control centre currently undergoing commissioning, transformational low-emission remote operations are becoming a closer reality for the global maritime industry.
This new contract between Ocean Infinity and VARD facilitates the next phase of joint development between the two companies, including VARD's subsidiaries, Vard Design, Vard Electro and Seaonics. VARD's vessel systems management and automation techniques coupled with Ocean Infinity's systems integration capability and remote operations infrastructure will enable remote ship operation on a uniquely global scale.
---
Information Source: Read More
Oil and gas, press , | Energy, Climate, Renewable, Wind, Biomass, Sustainability, Oil Price, LPG, Solar, Electric,