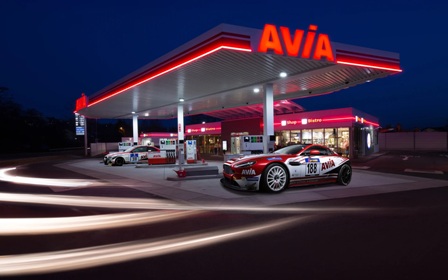 Oest automatizes Fuel Retail Business with SAP Technology
Downstream IT specialist Implico integrates 85 AVIA service stations into new solution landscape
The Oest Group celebrates a milestone in the digitization of its service station business. Via the future-looking automation solution SAP RFNO (Retail Fuel Network Operations), the team can now control, supply and bill its 85 locations in southern Germany completely digitally.
---
The result: significantly optimized processes and improved decision-making based on transparent data. Another benefit of the recent go-live is the unification of Oest's internal IT landscape. In addition to the service station network, the company's petroleum and engineering plants also run on high-performance SAP systems. The downstream IT specialist Implico is responsible for the implementation of the new software.
---
As a fully integrated end-to-end solution, SAP RFNO manages the complex processes within Oest's network of AVIA service stations – efficiently, transparently and digitally. The software maps all four distribution channels: owner-operated, lessee-operated and director-operated as well as automatic gas stations. Central work steps such as the daily billing of sales leases or the monthly inventory are now fully automated. Previously, the team had to do these time-consuming tasks by hand.
Also, Oest's processes do now run much safer, leaner and more reliable. Another plus is the increased quality and availability of the data, which is now accurate, complete and easily accessible. Via these benefits, SAP RFNO provides the basis for quick and targeted decisions – a capability that is becoming more and more important in the hard-to-predict service station business.
With the help of SAP RFNO, Oest has achieved a very high standard of automation throughout its service station business. To date, the company has created over 50,000 receipts through the new system.
---
High level of digitalization, increased service quality and great innovative spirit
"With the introduction of SAP RFNO, we have taken an important step in the digitization of our operations," says Matthias Pape, Managing Director of Service Stations at the Oest Group. "This is beneficial to us and to our business partners. They now receive all relevant data quickly, reliably and precisely – a great improvement in service quality and a significant ease in daily business."
---
During this implementation project, Oest profited greatly from the in-depth SAP expertise of the Implico team. As software developer, the latter company is also responsible for the SAP RFNO and SAP SDM (Secondary Distribution Management) solutions. In the past, Implico had already implemented SAP SDM at Oest.
Thomas Roller, Head of Sales & Marketing at Implico, is pleased about the good collaboration: "The go-live of SAP RFNO marks another highlight in the joint success story of Oest and Implico. Together, we have not only equipped Oest's service station business for the future, but also advanced the SAP RFNO software solution even further. Everyone involved has shown full commitment to the common vision and great enthusiasm for innovation."
---
Information Source: Read Full Release ..–>
---
Press release by: