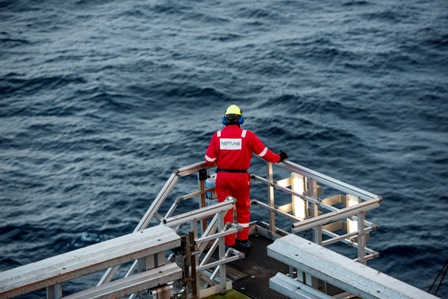 Electrically Trace-Heated (ETH) production pipeline completed in Norwegian sea
Neptune Energy today announced the safe and successful installation and testing of the world's longest trace-heated subsea production pipeline at its operated Fenja field in the Norwegian sea.
---
The 37 kilometre electrically trace-heated (ETH) pipe-in-pipe solution will transport oil from the field to the Njord A platform, operated by Equinor. The innovative use of the ETH pipe-in-pipe significantly reduced the potential cost of the development by enabling the field to be tied back to existing infrastructure.
---
Neptune Energy's Director of Projects and Engineering in Norway, Erik Oppedal, said: "Completing the installation and testing of the ETH pipe is a great technical achievement and a major step forward in the development of the Fenja field. The ETH pipe-in-pipe solution is crucial for extracting the oil, and is a creative, cost-effective approach that permitted us to tie the field back to existing infrastructure. "Norway is an important part of Neptune's geographically-diverse portfolio and this is an excellent example of the company's commitment to investing in the region and adopting advanced technologies to overcome challenges."
---
The ETH pipeline was developed and qualified through a collaborative approach with TechnipFMC. Due to the high wax content of the Fenja field's oil, the contents of the pipeline must be warmed to a temperature above 28-degrees Celsius before starting the flow after a scheduled shut down or interruption. During normal production, the temperature in the pipeline would be well above this temperature.
---
Information Source: Read More…..