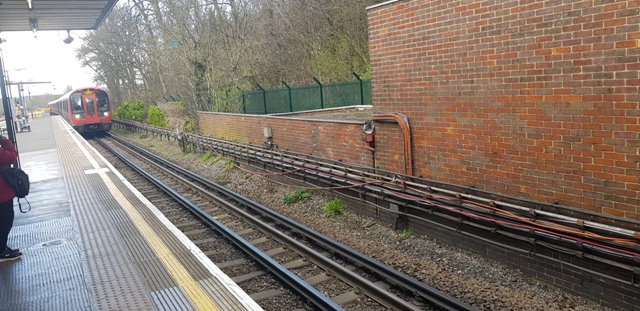 Oil and Gas, Renewable News As Reported today 4 Apr. 2022
Oil prices fell on Sunday after the United Arab Emirates and the Iran-aligned Houthi group welcomed a U.N.-brokered truce in Yemen according to WAM reports on Saturday.
---
KBR announced today the completion of its private astronaut training for the upcoming Axiom Mission 1 (Ax-1); the first private astronaut mission in history planned to visit the International Space Station (ISS).
Crew preparation is critical to the safety and success of every human spaceflight mission, a support service KBR has provided for more than 60 years. KBR is currently serving as prime contractor for the Integrated Mission Operations Contract II (IMOC II) and Human Health and Performance Contract (HHPC) with NASA. In 2019, KBR was granted the opportunity to train private astronauts at NASA facilities, a space-industry first.
"KBR is one of the only companies with the expertise needed in ISS systems and space medical operations to deliver this crucial commercial space training," said Stuart Bradie, KBR President and CEO. "We have pioneered space travel for more than half a century and are proud to leverage this domain expertise for the next phase of exploration and research." Led by KBR, the Ax-1 crew completed a months-long private astronaut training curriculum focused on health, safety and daily life onboard the ISS. Read More
---
Lundin Energy AB announced the completion and commercial handover of the Metsälamminkangas ("MLK") wind farm, the third largest in Finland to Lundin Energy and Sval Energi AS ("Sval"). MLK is estimated to produce around 400 GWh per annum gross, from 24 turbines with a total capacity of 132 MW. Lundin Energy holds a 50 percent interest in MLK, with the remaining 50 percent held by Sval. Lundin Energy and Sval have now taken over the ownership of the wind farm, which includes overall responsibility for the operations. OX2 AB has constructed the wind farm on budget under an engineering, procurement and construction contract and will remain responsible for the operations, maintenance and technical management of the wind farm. Commercial handover of the wind farm was originally planned for late Q4 2021, with final commissioning taking longer than anticipated. Lundin Energy is financially compensated for the delay through liquidated damages in the period up to commercial handover.
The newly constructed wind farm is equipped with the latest technology to ensure low cost and efficient operations. The 5.5 MW wind turbines have been purchased from, installed by and will be maintained by General Electric, with an availability warranty guaranteeing the availability and power production levels from the turbines through their operational life, giving the Company significant protection against downtime and outages. MLK will produce around 400 GWh per annum gross, which is equivalent to the annual electricity consumption of around 100,000 European households. Read More
---
GPS Group, the storage and logistics provider, and Rietlanden Terminals, announced that they have successfully completed a transfer of NOx (Nitrogen Oxides) disposition rights. The transfer, now confirmed through a permit that has become irrevocable, transfers such rights from Rietlanden Terminals to GPS Amsterdam and thereby supports GPS's expansions including the recently completed rail project and bio ethanol storage, which are supportive of the energy transition towards more sustainable energy products and transport modalities. Peter Vucins, EMEA Director, GPS, commented: "This is an important achievement for GPS as the NOx disposition rights will further allow us to help our customers in their journey towards the transition to cleaner energy." Read More
---
The Ebro Hydrogen Corridor was launched today. The project seeks to enhance inter-territorial coordination and serve as a link between the major regional initiatives for renewable hydrogen already underway in northeastern Spain. The new corridor aims to play a leading role in the decarbonization of industry in the region while improving competitiveness and attracting new investments. The project is supported by regional entities such as the Basque Hydrogen Corridor Association (BH2C); ACCIÓ – Agency for Enterprise Competitiveness as the entity responsible for the Hydrogen Valley of Catalonia (H2ValleyCat); the Foundation for the Development of New Hydrogen Technologies in Aragon (Fundación Hidrógeno Aragón) as the entity responsible for the coordination of the Aragon Hydrogen Valley "GetHyGA Initiative"; and the Industry Association of Navarre (AIN) together with the Society for the Development of Navarre (SODENA) as promoters of the Navarre Green Hydrogen Agenda. The driver behind the creation of this consortium is SHYNE (Spanish Hydrogen Network) – the largest multisectoral renewable hydrogen consortium in Spain, launched last January. It plays a key role in the integration of projects nationwide – motivated by the desire to share information and to analyze and study complementary actions that establish synergies between regional initiatives. SHYNE will also provide support to the projects developed through this initiative as well as capacity for knowledge management and promotion of research into pioneering technologies with the aim of positioning Spain at the forefront of the development of this renewable energy vector. Read More
---
Repsol private customers who use the free Waylet application receive, from today until June 30, a minimum discount of 10 euro cents per liter at the more than 3,300 Repsol service stations in addition to the Government's 20 euro cent rebate. The total price reduction at Repsol service stations in these cases is up to 30 euro cents per liter of fuel, to which other discounts are added where applicable. On the other hand, customers who from today use Repsol service stations and do not use Waylet will have a 5 euro cents discount as well as the 20 euro cents bonus approved by the government. Therefore, in these cases the total discount is 25 euro cents per liter.
For haulers, Repsol also offers a minimum discount of 10 euro cents per liter to professionals who have the Solred card, in addition to the 20 cents offered by the government, so that the minimum discount will be 30 euro cents per liter The offer is compatible with others already received by haulers and the self-employed through these cards.
Likewise, haulers and professionals who do not use Solred have an additional reduction of 5 euro cents per liter of fuel on the 20 euro cent rebate approved by the government. Therefore, the price reduction in these cases is 25 euro cents per liter in total. More
---
Repsol has reached an agreement for The Renewables Infrastructure Group (TRIG), an international investment company managed by InfraRed, to take a 49% stake for 117 million euros in the Valdesolar solar project (Valdecaballeros, Badajoz), Repsol's largest solar plant in Spain with a total installed capacity of 264 megawatts (MW) and which has been fully operational since the third quarter of 2021. With this agreement, which values Valdesolar at 239 million euros, Repsol maintains operational control of the asset and reinforces its renewables business model, supporting its objective of obtaining double-digit returns on its investments in this sector.
This is Repsol's second renewable asset rotation transaction since last November following the sale of a minority stake in Delta, its first operational wind power project in Aragon, Spain. According to João Costeira, Executive Director of Low Carbon Generation of Repsol: "We are delighted to incorporate TRIG as a strong partner in Valdesolar. This transaction again demonstrates the attractiveness of our renewable projects, accelerating the crystallization of value in operating assets, with the objective of reinvesting in new opportunities that will help us reach 6 GW of installed renewable generation capacity by 2025, and 20 GW by 2030." Read More
---
Oil and Gas Blends
Units
Oil Price $
change
Crude Oil (WTI)
USD/bbl
$100.20
Up
Crude Oil (Brent)
USD/bbl
$105.10
Up
Bonny Light
USD/bbl
$107.00
Down
Saharan Blend
USD/bbl
$108.65
Down
Natural Gas
USD/MMBtu
$5.74
Up
OPEC basket 1/04/22
USD/bbl
$104.90
Down
At press time 4 April 2022
---
A.P. Moller – Maersk announces that Henriette Hallberg Thygesen, Executive Board Member, will be appointed as new Chair for APM Terminals, and Keith Svendsen, currently COO in APM Terminals, will be appointed CEO of APM Terminals. The change follows the decision of Morten Engelstoft, Executive Board Member and current CEO of APM Terminals, to retire after 36 successful years with A.P. Moller – Maersk. The change in leadership will take effect from 1 July 2022.
The past six years of Morten's career has been at the helm of APM Terminals, where he has led the company through a very successful turnaround. Morten hands over a business on a very positive performance trajectory which delivers attractive, stable, and high returns. Read More
---
Queensland Magnesia(QMAG), a world leading supplier of magnesia products, became the first Oceania-based customer to choose Maersk ECO Delivery to reduce the company's carbon footprint in transportation. By joining efforts towards decarbonization, Maersk offers QMAG certified carbon neutral shipping based on sustainable biofuel, a solution to help QMAG to make progress towards its ambitious sustainability goals.QMAG has an ambitious climate strategy, and it is continuously exploring ways of improving its environmental footprint. Through innovation and collaboration with customers, technology providers and certification partners, Maersk ECO delivery provides direct carbon savings. Since its start in 2019, customer demand for Maersk ECO Delivery has grown more than 170% year-on-year. Read More Vortexa
---
---
Hess Corporation (NYSE: HES) today announced it has made a final investment decision to proceed with development of Yellowtail offshore Guyana after receiving government and regulatory approvals. Yellowtail, the fourth oil development and the largest on the Stabroek Block, is expected to produce approximately 250,000 gross barrels of oil per day starting in 2025.
Yellowtail will utilize the ONE GUYANA floating production, storage and offloading vessel (FPSO), which will develop an estimated resource base of approximately 925 million barrels of oil. Six drill centers are planned with up to 26 production wells and 25 injection wells.
Hess' net share of development costs, excluding pre-sanction costs and FPSO purchase cost, is forecast to be approximately US$2.3 billion, of which approximately US$210 million is expected in 2022, US$430 million in 2023, US$585 million in 2024, US$390 million in 2025 and US$295 million in 2026.
"We are excited to sanction our fourth oil development and the largest FPSO to date on the Stabroek Block," CEO John Hess said. "We look forward to continuing to work with the Government of Guyana and our partners to realize the remarkable potential of this world class resource for the benefit of all stakeholders. The world will need these low cost oil resources to meet future energy demand and help ensure an affordable, just and secure energy transition." Read More
---
The International Energy Agency's 31 Member Countries agreed on Friday to a new release of oil from emergency reserves in response to the market turmoil caused by Russia's invasion of Ukraine, underscoring their strong and unified commitment to stabilizing global energy markets.
The agreement was reached at an Extraordinary Meeting of the IEA Governing Board, which was held at the Ministerial level and chaired by US Secretary of Energy Jennifer Granholm. The details of the new emergency stock release will be made public early next week. The agreement follows the previous action taken by IEA Member Countries, announced last month, to which they pledged a total of 62.7 million barrels. The IEA Ministers reiterated their concerns about the energy security impacts of the egregious actions by Russia and voiced support for sanctions imposed by the international community in response. Ministers expressed their solidarity with the people of Ukraine and their democratically elected government in the face of Russia's appalling and unprovoked violation of Ukraine's sovereignty and territorial integrity. The Governing Board also encouraged member countries to support Ukraine in the supply of oil products. The Ministers noted that Russia's war in Ukraine continues to put significant strains on global oil markets, resulting in heightened price volatility. This is taking place against a backdrop of commercial inventories that are at their lowest level since 2014 and a limited ability of oil producers to provide additional supply in the short term. Ministers also noted the particular difficulties in diesel markets. Read More
---
Nigeria's oil production has been hampered again by rising crude oil theft and attacks on pipelines across the Niger Delta region with the latest figure showing 1.15 million barrels per day production, down from the 1.39 million barrels per day recorded in February.
The Group Managing Director/CEO of NNPC Limited, Mallam Mele Kyari who disclosed this over the weekend said the increasing rate of vandalism has caused massive disruption in oil production.2022 Budget was benchmarked at 1.88 million barrels per day of oil production. They are doing less than 1.15 million barrels per day Read More–>
---
Short-term interventions addressing the current energy crisis must be accompanied by a steadfast focus on mid- and long-term goals of the energy transition. High fossil fuel prices, energy security concerns and the urgency of climate change underscore the pressing need to move faster to a clean energy system, says World Energy Transitions Outlook 2022. Launched by the International Renewable Energy Agency (IRENA) at the Berlin Energy Transition Dialogue today, the Agency's Outlook sets out priority areas and actions based on available technologies that must be realised by 2030 to achieve net zero emissions by mid-century. It also takes stock of progress across all energy uses to date, clearly showing the inadequate pace and scale of the renewables-based transition. Read More
---
Egypt is the third-largest natural gas producer in Africa. Egypt operates the Suez Canal and the Suez-Mediterranean (SUMED) Pipeline, which are important transportation infrastructure in international energy markets. Read More
---
International Rig Count is up 2 rigs from last month to 815 with land rigs down 4 to 621, offshore rigs up 6 to 194.

U.S.A
1st April 2022
673
+3
Canada
1st April 2022
124
-16
International
March 2022
815
+2
Baker Hughes
---