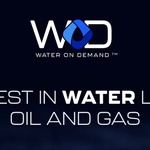 OriginClear to Launch Water On Demand Fintech Startup
Program brings relief to underserved businesses needing their own water treatment.
CLEARWATER, Fla.–(BUSINESS WIRE)–$OCLN #cleanwater—OriginClear Inc. (OTC Pink: OCLN), a leader in clean water innovation, announces that it will spin off its Water On Demand™ business. Water On Demand is a breakthrough water fintech startup that finances private water utility programs.
"Water On Demand can help businesses eliminate or mitigate their dependency on municipal sewage treatment, which can be costly or even totally unavailable," said Riggs Eckelberry, OriginClear CEO. "This is a growing trend as city water systems fall behind on funding ─ and populations increasingly migrate away from big urban centers. For waste water producers, the ability to pay-as-you-go for water treatment services is revolutionary. For investors, Water On Demand enables them to participate in the financing of these services at a stage we believe is undervalued."
"There is no more important commodity than clean water," said Ken Berenger, OriginClear Executive Vice President. "Let's face it, dollar inflation is a fact of life today, and investors need to find shelter in physical, income-bearing assets; but the challenge is finding an asset that is not overvalued right now."
Water On Demand™ gives investors the opportunity to potentially earn royalties from private water utility projects serving industrial and agricultural businesses that are not being adequately served by America's underfunded municipal water systems. With Water On Demand, these businesses can simply sign a contract for water treatment without upfront capital or the need to do their own costly maintenance. Customers simply pay by the gallon of treated wastewater.
In addition to royalties, early investors are entitled to receive equity grants in OriginClear. The first $20 million of investment capital will also receive dilution-protected shares in the new subsidiary.
The launch of Water On Demand is the first of several anticipated business property spinoffs.
"We have an array of outstanding brands," said Tom Marchesello, OriginClear COO. "But the most immediate candidate is Water On Demand, which has the potential to bring hundreds of significant investments into badly-needed water projects, transforming the state of water as we know it."
Other Company business properties include Modular Water Systems, which owns a master license to five key international patents for prefabricated, highly-durable modular water treatment and pumping products. Being a proprietary technology, MWS frequently qualifies as "Basis of Design" for projects, which means that competitors cannot easily undercut MWS.
"With the support of our amazing investors and backers, we have incubated a series of valuable brands, and it's time to help them shine on their own," said Riggs Eckelberry, OriginClear CEO. "We believe that through Crowdfunding platforms we can launch and fund a series of highly focused 'pure plays' that can leverage targeted strategic partnerships and have the potential to be future stand-alone public companies."
Recently, OriginClear agreed in principle to an arrangement with Houston-based, international water service company Envirogen Technologies for certain operations and maintenance (O&M) functions, the first of a potential series of such partnerships, intended to enable Water On Demand to focus on finance and asset management while the water industry benefits from a steady stream of pre-capitalized projects. This focus on capital makes Water On Demand a true fintech startup in the water industry. In March, it met its first $1 million milestone in dedicated capital.
---
Accredited investors interested in a water asset investment should contact invest@originclear.com or click on the Invest button on the www.originclear.com website.
About OriginClear Inc.
OriginClear leads the self-reliant water revolution, democratizing water investment by developing a marketplace to connect investors with water projects; and commercializing modular, prefabricated, filter-free advanced systems for faster sanitation worldwide. With America's broken infrastructure and 100 billion dollars of government spending to fix the nation's 150,000-plus water systems, OriginClear is helping them "cut the cord," by developing outsourced pay-per-gallon programs and a future digital currency to streamline payments. Our line of Modular Water products and systems is key to the self-reliant water treatment revolution as they create "instant infrastructure" – fully engineered, prefabricated and prepackaged systems that use durable, sophisticated materials.
For more information, visit the company's website: www.OriginClear.com
Follow us on Twitter
Follow us on LinkedIn
Like us on Facebook
Subscribe to us on YouTube
Signup for our Newsletter
OriginClear Safe Harbor Statement:
Matters discussed in this release contain forward-looking statements. When used in this release, the words "anticipate," "believe," "estimate," "may," "intend," "expect" and similar expressions identify such forward-looking statements. Actual results, performance or achievements could differ materially from those contemplated, expressed or implied by the forward-looking statements contained herein.
These forward-looking statements are based largely on the expectations of the Company and are subject to a number of risks and uncertainties. These include, but are not limited to, risks and uncertainties associated with our history of losses and our need to raise additional financing, the acceptance of our products and technology in the marketplace, our ability to demonstrate the commercial viability of our products and technology and our need to increase the size of our organization, and if or when the Company will receive and/or fulfill its obligations under any purchaser orders. Further information on the Company's risk factors is contained in the Company's quarterly and annual reports as filed with the Securities and Exchange Commission. The Company undertakes no obligation to revise or update publicly any forward-looking statements for any reason except as may be required under applicable laws.
Contacts
Media Contact
The Pontes Group
Lais Pontes Greene, (954) 960-6083
lais@thepontesgroup.com
www.thepontesgroup.com
Investor Relations and Press Contact:
Devin Angus
Toll-free: 877-999-OOIL (6645) Ext. 3
International: +1-323-939-6645 Ext. 3
Fax: 323-315-2301