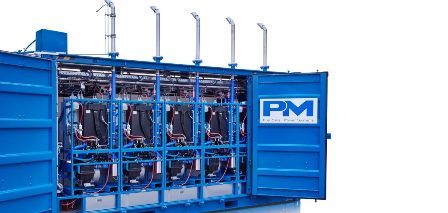 Proton Motor Presents new fuel cell drive system for rail innovation
Hydrogen as an environmentally friendly energy carrier is also a gain for the railways – and not only in passenger transport. For rail maintenance, exhaustand noise-free cleantech innovations are in demand. The world's first rail milling train with hydrogen fuel cell drive is based on the quality development of the technology expert "Proton Motor Fuel Cell GmbH". For the lead project of an Austrian client, the alternative drive solution has been successfully designed and manufactured. In the current context of the (planned for July 2021) delivery of the tailor-made hydrogen fuel cell system with an installed capacity of 214 kW – consisting of two fully redundant systems of 107 kW each.
---
Proton Motor now welcomed Hubert Aiwanger, Deputy Prime Minister and Minister of the Free State of Bavaria for Economic Affairs, Regional Development and Energy, for the official presentation date at the operating site in Puchheim. It was the second company visit to the Bavarian Minister of Economic Affairs for the exchange of information at Proton Motor after the ceremony in 2019 for the official start of the fuel cell series production.
During the technical review of the sustainable multistack system, top politician Aiwanger stated to Proton Motor`s four-member management with Sebastian Goldner (CTO & COO), Roman Kotlarzewski (Finance Director), Klaus Bury (Business Administration) and Manfred Limbrunner (Director Sales & Marketing): "Bavaria is setting ambitious climate targets and is striving for a consistent energy and mobility transition. I am convinced that hydrogen and fuel cell technologies in particular will make an important contribution to achieve the sector-specific climate protection targets. Especially in heavy-duty traffic with high vehicle weights and necessary ranges, the fuel cell drive has great potential to rapidly advance the decarbonization of the transport sector. Proton Motor Fuel Cell acts as an important player in our Bavarian hydrogen economy thanks to many years of experience in the field of fuel cell development and production. With its innovative Proton Motor technology, the company impressively demonstrates that climate-friendly drive solutions can also be implemented in rail transport."
---
Information Source: Read Full Release ..–>
---
Press release submitted by Ariane Guenther, Head of Public Relations, Proton Motor Fuel Cell GmbH