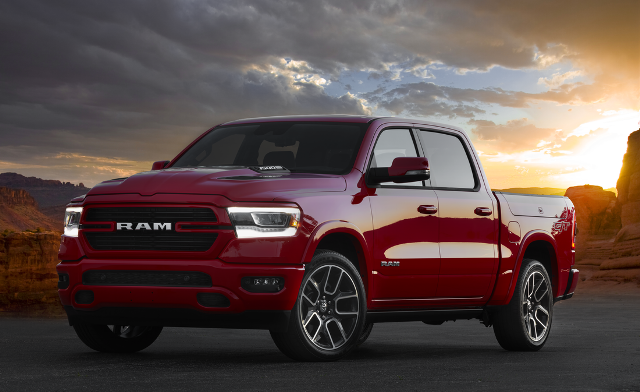 RAM to launch a 3.6-liter Pentastar V-6 engine truck with eTorque mild-hybrid system in Europe
RAM is ready to introduce yet another new release onto the European market. In fact, in the coming weeks, the American brand will make the 3.6-liter eTorque Pentastar V6 engine available in Europe as well. Moreover, in RAM's product plan, the introduction of this engine fits right in with the process of convergence toward engines with lower CO2 emissions.
This powerful and high-performing engine, which delivers 305 horsepower and 364 Nm of torque, will be introduced to enthusiasts and the press at the ideal setting of the German GP, which is taking place on June 10 and 11 at the Teutschenthal circuit. The engine will be available in Europe on the RAM 1500 Big Horn, RAM 1500 Laramie and RAM 1500 Rebel models—three of the Brand's icons that stand out for their combination of power, durability, and state-of-the-art technology.
3.6-liter eTorque Pentastar V6: details and key points
The eTorque Pentastar V-6 engine provides RAM enthusiasts in Europe with many new features and shows the difference electronic components can make on conventional engines. In particular, the powerful engine, which is capable of delivering 305 horsepower and 364 Nm of torque, offers significant fuel-economy benefits due to the innovative eTorque mild-hybrid system, which replaces the traditional alternator. In fact, the unit is powered by a 430 watt-hour lithium-ion nickel manganese cobalt (NMC) graphite battery pack which, when running, provides a 48-volt current during both launch and gear shifting. The battery can also rely on a 3-kilowatt DC-to-DC converter to retain a conventional 12-volt starter motor, which gets used for cold starts due to its greater efficiency in extreme temperatures. In fact, one of its main strengths is its fast stop-start functions combined with superior performance. From a fuel consumption perspective, the Pentastar V-6 engine reports a combined fuel consumption figure which is 19% EPA (Environment Protection Agency) lower than the 5.7-litre V8 engine. Its advanced technologies, such as wide-range variable valve-timing and two-step variable valve lift, deliver the optimal blend of power and fuel economy based on the driver's demand. A cooled exhaust gas recirculation system enables improved fuel economy and emissions performance at higher loads. Meanwhile, a compression ratio of 11.3:1 delivers an optimal balance of power, fuel efficiency and refinement. Energy recovery from deceleration and braking allow for an increased towing and payload capacity and battery pack recharging. Finally, the additional torque at the crankshaft minimizes noise, vibration and harshness (NVH). This comfortable combination not only enables better fuel management, but also an improved and easier driving experience that appeals to a wider audience. In this way, the Brand is also able to reach a younger audience which is always looking out for what's new and interested in driving cars that combine great performance with gritty aesthetics—the Brand's hallmarks. Overall, the eTorque Pentastar V-6 engine offers a better total cost of ownership than its competitors and, not surprisingly, has collected several awards in recent years as one of the 10 best engines and propulsion systems of the year.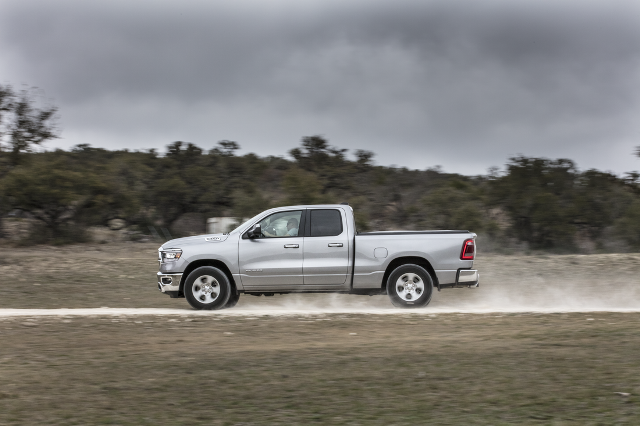 The RAM 1500 models that will benefit from the new engine
The innovative 3.6-liter eTorque Pentastar V6 engine will be available on the RAM 1500 Big Horn, RAM 1500 Laramie and RAM 1500 Rebel models, three flagships of the American brand. Uncoincidentally, the latter two represent half of the four vehicles, along with two RAM 1500 TRXs, RAM has provided to the Red Bull KTM Factory Racing teams to travel with over the season.
The RAM 1500 Rebel is the right choice for anyone looking for a vehicle for going off-road without fear. This is possible thanks to several features of this model, such as the sport performance hood, the coil suspension with 1-inch lift and 9.7-inch ground clearance, the all-terrain 33-inch Goodyear Wrangler Duratrac tires, the hill descent control and Selec-Speed control (available on 4×4 models). The RAM 1500 Rebel is available with three engines (the 3.6L V6 eTorque engine and 5.7L V8 Hemi which is also available with eTorque engine and with attractive interiors also available with red trim). The aggressive and sporty nature of the Rebel still leaves room for a fantastic driving experience thanks to the advanced technology that characterizes the interior and its numerous monitoring systems.
The RAM 1500 Laramie sets itself apart with its combination of best-in-class performance, payload, luxury and technology, including its huge availability of options and packages, making it one of the best-selling models in Europe. Three engines are available on this truck: the 3.6L V6 eTorque and 5.7L V8 Hemi which is also available with eTorque. The Laramie is also excellent from a technological point of view with a 12-inch touchscreen, remote vehicle start, advanced brake assist, forward collision warning with active braking and various comfort features including heated seats, dual-zone automatic temperature control, adaptive cruise control and lane keep assist. The Laramie model agreed upon in the partnership also includes the night edition package which includes a set of premium features and aesthetic upgrades such as leather-trimmed bucket seats, black interior trim, black night edition badging and heated mirrors.
---
Information Source: Read More "
Energy Monitors , Electric Power , Natural Gas , Oil , Climate , Renewable , Wind , Transition , LPG , Solar , Electric , Biomass , Sustainability , Oil Price , Electric Vehicles,