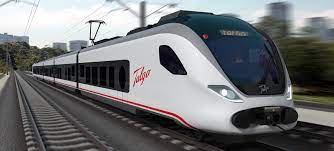 Renewable hydrogen-powered train to be developed in Spain
Repsol and Talgo will jointly develop projects to promote the creation of renewable hydrogen-powered trains and promote emission-free rail transport in the Iberian Peninsula. The agreement has been signed by Repsol's executive director of Industrial Transformation and Circular Economy, Juan Abascal and the Chairman of Talgo, Carlos Palacio Oriol.
---
Talgo is developing hydrogen-powered trains that will make it possible to de-carbonize railway lines, especially those of the secondary network that are not electrified. It has developed its Vittal One train, a modular solution for medium-distance and commuter trains powered by hydrogen fuel cells, which will be the first dual hydrogen-electric train.
---
The alliance between the two companies provides a comprehensive solution to making renewable hydrogen-powered trains a reality. Talgo will handle the design, manufacture, and commissioning of the new self-propelled trains for short and medium distances, while Repsol will offer up its renewable hydrogen generation infrastructure and the Company's logistical means to supply the railway network.
---
This collaboration will promote the achievement of one of the objectives set in the Hydrogen Roadmap approved by the Government last October — to have two lines of hydrogen-powered commercial trains by 2030.
The Vittal One renewable hydrogen-powered train uses electric motors that obtain energy thanks to hydrogen cells, which turn this fuel into an electric current. This type of train can run on non-electrified tracks and without the need to install a catenary or make any other type of modifications.
---
Repsol will use organic waste to generate biogas at its industrial centers, which will be used to produce renewable hydrogen. It has announced the installation of two electrolyzers with a capacity of 100 MW in Cartagena and Petronor that will supply its complexes with renewable hydrogen.
---
Information Source: Read Full Release ..–>