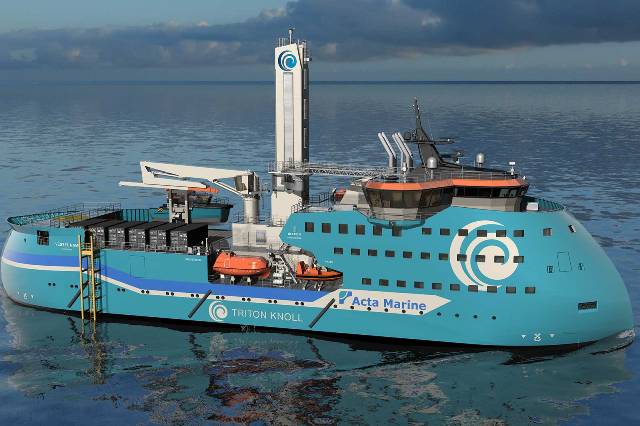 RWE and Acta Marine sign agreement for 'green' fuel service operation vessels (SOVs)
RWE and maritime support provider Acta Marine have entered a long-term vessel supply agreement that paves the way for the decarbonisation of offshore wind farm operations.
The agreement is to build and operate two 'green' service operation vessels, which will be among the first in the world to be built with the capability of being powered by methanol and batteries, with the potential to save up to 10,000 tons of CO2 emissions every year.
Acta Marine will begin constructing the vessels at Tersan Shipyards in Turkey during the second quarter of 2023 and they are expected to begin operation from the Port of Grimsby in early 2025 and 2026. Both vessels will be methanol ready from day one, and will support the day-to-day operations and maintenance of two of RWE's largest offshore wind projects, at the newly operational 857megawatt (MW) Triton Knoll and the 1.4 gigawatt (GW) Sofia Offshore Wind Farm, which is now under construction.
The SOVs will be based out of RWE's new Grimsby Hub and support the long-term operations of the offshore assets, representing an enduring commitment to the region. The agreement will bring further investment into the port through the use of vessel support and maintenance services, local fuelling, pilotage and other ancillary services.The low-carbon collaboration also marks a tangible step forward for the vision of Operation Zero, an industry coalition working towards the deployment of zero-emission operations vessels and infrastructure in support of the North Sea offshore wind sector from 2025. Operation Zero was launched by the Department for Transport and the ORE Catapult at COP26, and was signed by RWE.
---
Information Source: Read More "
Energy Monitors , Electric Power , Natural Gas , Oil , Climate , Renewable , Wind , Transition , LPG , Solar , Electric , Biomass , Sustainability , Oil Price , Electric Vehicles,