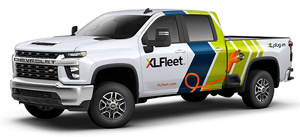 XL Fleet Partners with Curbtender to Develop All-Electric Refuse Trucks
XL Fleet Corp. (NYSE: XL) a leader in fleet electrification solutions with over 145 million customer miles driven, announced it has entered into a strategic partnership with Curbtender, a market leader in Under CDL refuse trucks and a pioneer in automated side loader collection. Under the terms of the agreement, XL Fleet and Curbtender will jointly develop a series of battery electric (BEV) and plug-in hybrid electric (PHEV) commercial trucks for use in waste management applications.
---
The two companies have committed to developing and launching a battery electric refuse vehicle equipped with an XL Electric™ propulsion system and a Curbtender Quantum rear loader refuse truck body within the next year. The agreement also includes the joint development of plug-in hybrid electric versions of the vehicle, as well as a range of Class 3 – Class 8 vehicle solutions for the waste management industry.
---
Information Source: Read Full Release ..–>
---
Press release by: