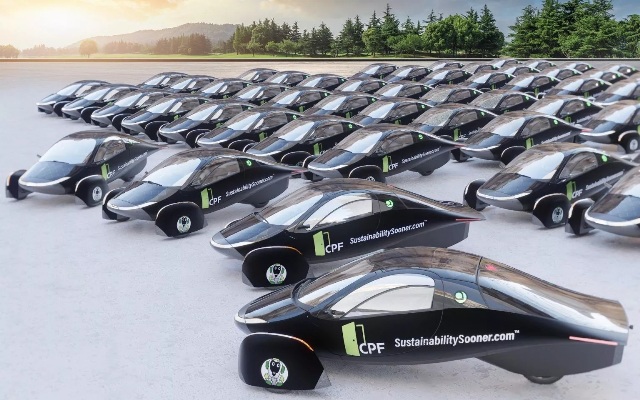 Aptera Receives Fleet Order from SustainabilitySooner.com
Aptera Motors has received its first fleet order from eco-accelerator SustainabilitySooner, Inc.™ In a move that unifies each organization's vision toward a greener future, SustainabilitySooner has placed a pre-order for 101 400-mile range, all-wheel drive solar electric vehicles to mobilize its team. This reservation, valued at $3.35 million in future revenue, represents the first of many anticipated partnerships between Aptera Motors and companies that desire a fleet solution with less environmental impact.This deal has enormous potential as the start-up plans to grow its fleet from 101 Apterae to 101,000 or more vehicles as it continues to expand its operations across the country.
"SustainabilitySooner.com placed Aptera's first fleet order because Aptera is building the most climate positive vehicle on the planet," noted David Fuller, Chief Executive Officer. "The next mobility revolution must be a climate positive revolution."
Aptera Motors and SustainabilitySooner.com have a shared mission to save the planet by embracing nature and reducing our carbon footprint. Solar electric vehicle drivers can reduce their electric pollution footprint with less reliance on the grid. When drivers with commutes of less than 40 miles a day leverage the full benefit of the electricity generated by onboard solar, Aptera becomes carbon-neutral and generates 0g of CO2e/mi and 0g of NOx and VOC criteria pollutants.
Aptera's solar-powered fleet will accelerate SustainabilitySooner's ability to scout and locate raw land sites, where it will utilize artificially intelligent robotic solutions to map, plant, nurture, study, and film native plants and wildlife while providing its subscribers 24/7 virtual access to observe and participate online.
---
Information Source: Read More "
Energy Monitors , Electric Power , Natural Gas , Oil , Climate , Renewable , Wind , Transition , LPG , Solar , Electric , Biomass , Sustainability , Oil Price , Electric Vehicles,