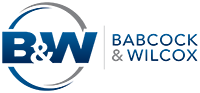 Babcock & Wilcox Awarded $9 Million Contract to Supply Cooling Systems for Middle East Green Hydrogen Project
AKRON, Ohio–(BUSINESS WIRE)–$BW–Babcock & Wilcox (B&W) (NYSE: BW) announced today that its B&W Environmental business segment has been awarded a contract for more than $9 million to design and supply two cooling systems for a clean hydrogen production facility in the Middle East.
B&W Environmental will supply two SPIG® fiberglass-reinforced polymer (FRP) cooling towers to provide efficient, low-emissions cooling for a plant that will use renewable energy sources to produce hydrogen.
"We're excited to play an important role in this groundbreaking clean energy project," said Executive Vice President and Chief Operating Officer Jimmy Morgan. "B&W Environmental's SPIG cooling systems can be custom-designed for renewable energy facilities, including clean hydrogen production, and can help these plants operate at peak performance while protecting the environment from harmful emissions."
"Renewable energy and hydrogen are key to the future of clean energy in the Middle East and Africa region, and as more energy producers look to produce low- and zero-emissions energy, we're ready to help them achieve their goals with a broad selection of advanced technologies and services," Morgan said.
B&W Environmental's FRP cooling towers can operate under harsh conditions while providing high strength, weather resistance, long-term performance and durability, and exceptional noise and vibration absorption.
About Babcock & Wilcox
Headquartered in Akron, Ohio, Babcock & Wilcox Enterprises, Inc. is a leader in energy and environmental products and services for power and industrial markets worldwide. Follow us on LinkedIn and learn more at babcock.com.
Forward-Looking Statements
B&W cautions that this release contains forward-looking statements, including, without limitation, statements relating to a contract to design and supply cooling systems for a clean hydrogen production facility in the Middle East. These forward-looking statements are based on management's current expectations and involve a number of risks and uncertainties. For a more complete discussion of these risk factors, see our filings with the Securities and Exchange Commission, including our most recent annual report on Form 10-K. If one or more of these risks or other risks materialize, actual results may vary materially from those expressed. We caution readers not to place undue reliance on these forward-looking statements, which speak only as of the date of this release, and we undertake no obligation to update or revise any forward-looking statement, except to the extent required by applicable law.
Contacts
Investor Contact:
Investor Relations
Babcock & Wilcox
704.625.4944
Media Contact:
Ryan Cornell
Public Relations
Babcock & Wilcox
330.860.1345