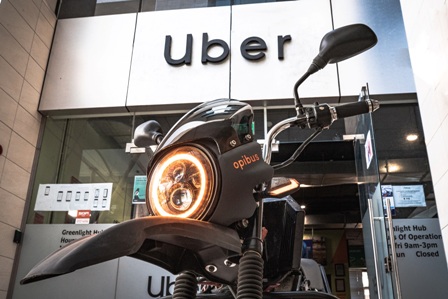 Uber partners with Opibus to deploy up to 3000 electric motorcycles for drivers by 2022
Opibus and Uber have after the successful completion of a pilot program, announced a strategic partnership to scale the use of electric motorcycles in Africa. Uber's platform offers services across the continent and will enable Opibus to accelerate the mass adoption of electric vehicles across the continent.
‍
The goal of the collaboration with Opibus is to simplify the deployment of electric motorcycles across Africa. This follows an agreement between the two parties where Opibus will supply 3,000 electric motorcycles in 2022 to meet the demand from UBER's drivers. In line with this, the partnership will see a scale-up of Opibus operation to other countries across Africa.
‍
Opibus motorcycle stands out from others as it is the first African electric motorcycle, which means it is fully designed and tailored for the local use case, with a robust frame and dual swappable battery packs providing a perfect product-market fit, intended to maximise local content.
---
Information Source: Read the article
Oil and gas, press , | Energy, Climate, Renewable, Wind, Biomass, Sustainability, Oil Price, LPG, Solar,Electric