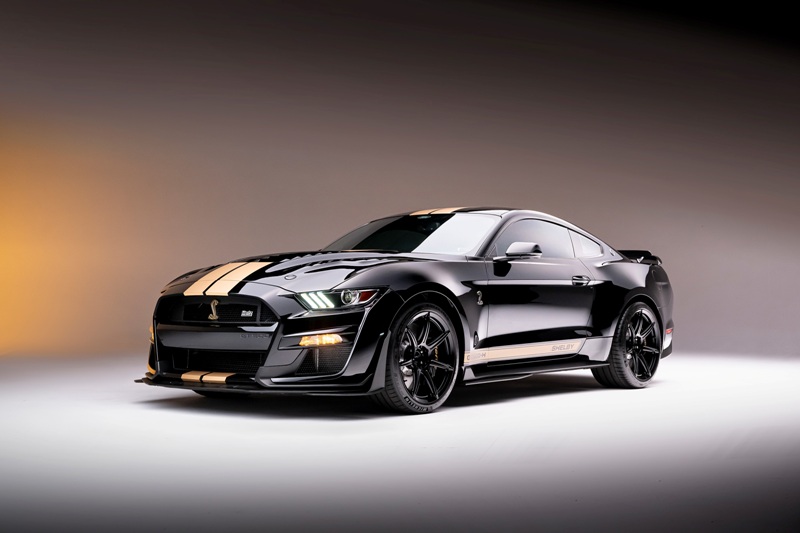 Hertz in Three-Year Custom Car Partnership Beginning with Exclusive 2022 Shelby Mustang Models
Hertz and Shelby American announce a three-year custom car partnership, kicking off with exclusive 2022 Shelby edition Ford Mustangs. Beginning this summer, this special production run of history-making vehicles will be available for rent at select Hertz locations across the U.S.
The collection includes Mustang Shelby GT500-H fastbacks modified with 900+ horsepower and Ford Shelby Mustang GT-H fastbacks and convertibles, each created specifically for Hertz. The vehicles pay tribute to the original "Rent-A-Racer," the legendary 1966 Shelby GT350-H, and builds on Hertz's legacy to give customers the unique opportunity to drive elite, high-performance vehicles they can't access anywhere else.
The Mustang Shelby GT500-H will be available in Fort Myers, Las Vegas, Miami, Orlando, Phoenix and Tampa. The Mustang Shelby GT-H convertibles and fastbacks will be available in Atlanta, Dallas, Fort Lauderdale, Fort Myers, Las Vegas, Los Angeles, Miami, Orlando, Phoenix, San Diego, San Francisco and Tampa.
"Shelby American and Ford Motor Company changed the perception of American sports cars, starting with the Shelby Cobra in 1962," said Joe Conway, CEO of Shelby American. "Shelby later teamed with Hertz to create the 1966 Shelby GT350-H, which immediately became one of the most exciting rental cars in the world. Together, we made history again with both a reborn Shelby-GT in 2006, 2007 and in 2016. Now we're going even further with the first Mustang Shelby GT500-H, which is the most powerful rental car that Shelby has ever built."
"Hertz and Shelby American have created driving magic again," said Stephen Scherr, CEO of Hertz. "This partnership has made automotive history many times over the years, and we look forward to future collaborations that will continue to both push limits and delight our customers with exciting cars and experiences."
Each of the 2022 Shelby Mustang Hertz models will be instantly recognizable with unique styling enhancements that celebrate a rich performance heritage. Nineteen of the Shelby GT500-H fastbacks will wear shadow black exterior paint and six, to honor Shelby American's 60th anniversary, will be clad in oxford white. The Shelby GT-H fastbacks and convertibles will be available in rapid red metallic, oxford white, carbonized gray and shadow black exterior paint. All will be set off with gold "Le Mans" dual racing stripes and set of special rocker stripes, along with Hertz Edition and Shelby 60th anniversary emblems. Inside, Shelby and Hertz logos are on the seats, sill plates and floor mats; a numbered badge will be on the dash and under the hood. The supercharger on the Shelby GT500-H is gold hued for Hertz's livery.
---
Information Source: Read More
ENERGY | ELECTRIC POWER | NATURAL GAS | AUTOMOTIVE | CLIMATE | RENEWABLE | WIND | TRANSITION | LPG | OIL & GAS | SOLAR | ELECTRIC VEHICLES| BIOMASS | SUSTAINABILITY | OIL PRICE |