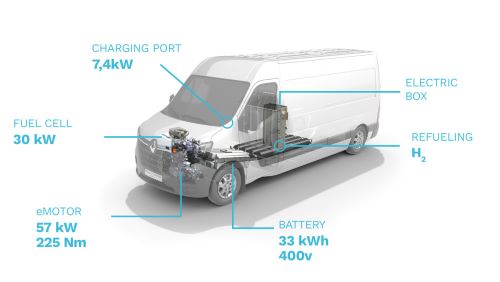 HYVIA unveils new architecture of Renault Master Van H2-TECH
London, 20 November 2023, (Oilandgaspress) – HYVIA is participating for the second time at SOLUTRANS, the world trade fair for industrial and urban vehicles, from November 21 to 25, 2023, at Lyon Eurexpo (France), and reveals a new architecture for its hydrogen-powered Renault Master Van H2-TECH.
This new architecture is a response to the broader needs of professional users, with the introduction of three new versions: L2H2, L3H2 and L3H3. On display on the HYVIA booth alongside Renault (4 E 026 – Hall 4), discover the L3H2 version of this new architecture, fitted out as a workshop vehicle by converter Kollé. First deliveries expected from Q2 2024.
Alongside this L3H2 version, HYVIA presents a conversion of the well-known L3H3+ version, by converter Sortimo, for after-sales operations.
HYVIA is organizing dynamic tests of the L3H3+ version of its hydrogen van: visit the test area behind Hall 4.
In addition, based on the New Renault Master unveiled by Renault at SOLUTRANS, HYVIA is developing a future generation of hydrogen-powered vans, available in several versions, to be launched as early as 2025.
Find out more about these vans and the associated HYVIA ecosystem at the Keynote by Julien Etienne, CCO HYVIA, on Wednesday November 22 at 3pm, on the Renault booth.
Strongly committed to the H2 sector, HYVIA will once again be present, from November 20 to 24, 2023, at the exhibition organized by Hydrogen Europe during European Hydrogen Week, in Brussels (Belgium).
The hydrogen-powered Renault Master Van H2-TECH in its L3H3+ version is on static display for Europe's leading hydrogen players (stand C30 – Hall 11).
As the only French automaker in the "Important Project of Common European Interest – Hy2Tech", HYVIA continues to deploy its complete ecosystem dedicated to hydrogen mobility and its commitment to the energy transition.
Jean-Christophe Béziat, Director of Public Affairs HYVIA, will take part in the Conference "The role of hydrogen in decarbonizing road transport" on Tuesday November 21 from 4 to 5 pm.
---
Information Source: Read full article
Energy ,Petrol , Electric Power , Natural Gas , Oil , Climate , Renewable , Wind , EV , LPG , Solar , Electric , Electric Vehicles, Hydrogen, Oil Price ,Crude Oil, Supply, Biomass , Sustainability,