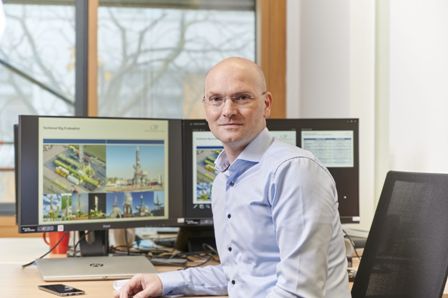 iQx™ Plays a Key Role in the Race for Viable Geothermal Energy
An innovative technology that enables vast efficiencies in well planning and execution has made a potentially game-changing impact in its first deployments in the geothermal field.
---
The iQx™ platform, from AGR Software, a leading solutions provider for the global oil and gas industry with nearly two decades of digitalisation experience, can significantly streamline the well delivery process and increase automation in often more demanding geothermal sites. 
Results already show that optimum performance is being achieved through enhanced understanding of all operational risks, costs and timescales. These are all critical challenges to overcome in the high stakes race to improve the viability of the wide scale capture of geothermal resources.   
The platform provides a suite of applications that link up to create a seamless process for well intelligence gathering and well delivery automation. This plug-and-play technology is designed to improve collaboration between all project members and enhance knowledge transfer.
---
Deutsche ErdWärme, the largest private developer of geothermal power plants in Germany and a business committed to standardising, professionalising and automating the process of geothermal drilling, has partnered with AGR Software. The iQx™ platform is already delivering important, measurable benefits.
---
Geothermal energy wells can be even more challenging than oil and gas wells, in terms of estimating project time, cost and risk exposure. In addition to making these predictions via the platform's P1™ application, iQx™ applies Monte Carlo simulation methodology to deliver comprehensive insight that offers decision-makers greater clarity, enabling better informed investment decisions. 
---
When wells are operational, users track actual time and cost through the platform up against the approved budget and can forecast the project's final duration and expenditures. The iQx™ technology creates post drilling reports faster, using available data from planning and operational phases in addition to facilitating task management and boosting quality of generated documents. The result is increased standardisation, improved communication and collaboration, efficient workload distribution and empowered transparency of project related risks and cost for the management and stakeholders. Crucially, this smart platform also records learnings that can be applied to avoid mistakes and maximise performance in future projects.
---
An important factor in Deutsche ErdWärme's choice of the iQx™ platform was being able to successfully transfer a system already proven in oil and gas operations. They believe 'the wheel doesn't have to be invented twice'  in their work, to bring the advantages of digitalisation to the geothermal sector, where there is still at this stage a lot of manual input to the extraction planning and management process.
---
"We aim to develop our projects using state-of-the-art technology. This also includes thinking outside the box and making technologies that have proven valuable in other sectors usable for deep geothermal energy. The iQx™ platform will become increasingly important for us", said Deutsche ErdWärme's Project Manager, Dr Marco Meirich. "Following up on lessons learned will be very important, alongside improved cost tracking and reporting. We have investors who rightly request full transparency on performance, and we feel well equipped with iQx™ to fulfil these requirements. We're responding to the needs of a fast-paced geothermal industry and must be able to make decisions quickly and efficiently. The way that the AGR Software team acts on suggestions through their technology offers us a major competitive advantage." 
---
The transition of its engineering capabilities and digital technology to renewable energy is a major focus for AGR Software going forward.
---
 "There is a real sense of mission in our team in bringing the innovation offered by digital technology to the geothermal sector," commented Øystein Andersen, VP of AGR Software. "We are only at the beginning of what can be achieved in this space. The digital transformation that is now underway in other industries shows the potential for radically improving energy exploration and production to achieve climate change goals. It's an exciting path ahead."
---
Information Source: Read Full Release ..–>