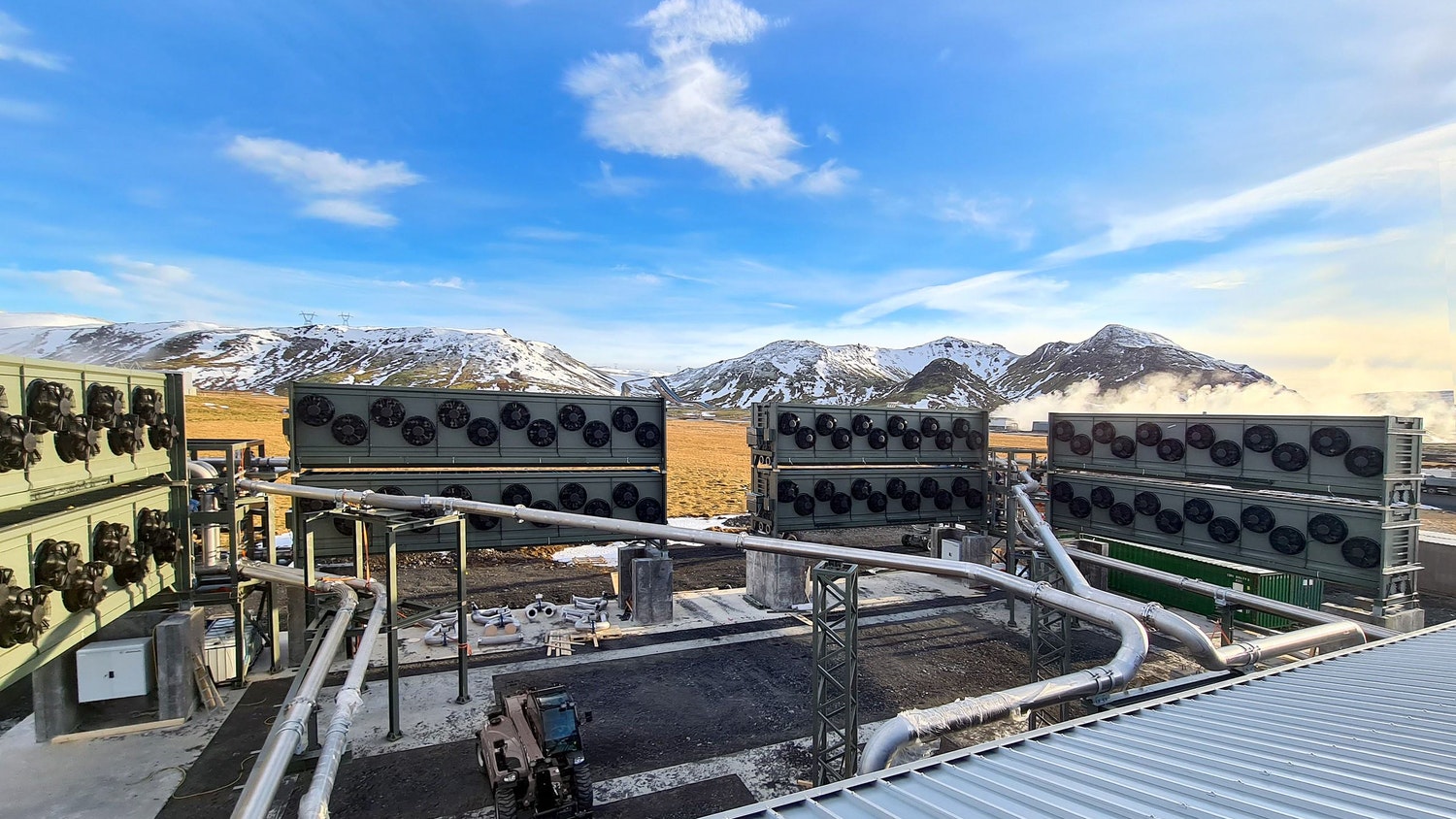 Large scale removal of CO2 from the atmosphere
Climeworks launched Orca, the world's largest direct air capture and storage plant that permanently removes CO₂ from the air.
The construction of Orca started in May 2020 and is based on advanced modular technology in the form of innovative stackable container-size collector units. These units are powerful and compact with minimal physical footprint.
---
This has made it possible for Orca to be operational in under 15 months. Compared to the previous technology generation, the use of steel in the collector units has roughly been reduced by half per output unit. Orca also supports the expansion of Climeworks, as the technology can easily be replicated at different locations worldwide and on ever larger scales, in a flexible manner wherever ample renewable energy and storage conditions are available. Strategically located adjacent to ON Power's Hellisheiði Geothermal Power Plant, Orca runs fully on renewable energy.
---
Orca is the first-of-its-kind plant that translates the vision of industrial-scale direct air capture and storage into reality. This improved technology generation comes in an award-winning new design, which embodies the interconnection between nature and technology. For the technology generation which Orca represents, Climeworks has been able to intensify the process leading to increased CO₂ capture capacity per module. This optimized process means that more carbon dioxide can be captured and stored than ever before.
---
Partnership with Carbfix and ON Power
Strong partnerships with pioneering Icelandic companies support the excellent conditions for the scale up. ON Power, the Icelandic geothermal energy provider, supplies clean renewable energy to power the Orca plant. Our partners Carbfix, experts in rapid underground mineralization mix the air-captured CO₂ with water and pump it deep underground, where it is trapped in stone through a natural mineralization process that takes under two years.
---
Information Source: Read Full Release –>
Oilandgaspress.com | Energy, Climate, Renewable, Wind, Biomass, Sustainability, Oil Price, LPG, Solar