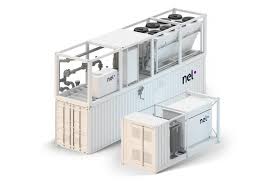 Nel in development partnership with SFC Energy
Nel ASA has entered a development partnership with SFC Energy AG to jointly develop the world's first integrated electrolyser and hydrogen fuel cell system for decentralized energy generation and storage. The development will be accelerated through using already mature products and proven technology from each respective party as basis for the integrated offering
---
"We are very excited to be joining forces with SFC Energy to jointly extend our industrial offering for environmentally friendly, decentralized energy generation and storage. With their proven track record and years of experience, we see a significant potential in developing solutions together to serve the distributed power generation market, where we see good growth prospects" says Jon André Løkke, CEO of Nel ASA.
---
The partnership will focus on developing industrial solutions to replace less efficient diesel generators with more efficient systems based on hydrogen fuel cells in combination with green hydrogen production through electrolysis. Initially,
---
SFC Energy and Nel will address applications in a power range of up to 50kW with a daily operating time of two to ten hours which can be used as reliable emergency power generators for critical power applications. In the medium-term, the partnership is aiming to develop systems in the power range of up to 500 kW for telecom, data center and auxiliary power unit (APU) markets. The parties aim to introduce the first products to the market during the second half of 2022.
---
By using renewable energies such as solar or wind power, Nel's electrolysers will produce the green hydrogen required for the entire system. This is stored in a tank. The SFC Energy hydrogen fuel cell will then convert the gas reliably and climate neutrally back into electrical energy when needed. The integrated offering has potential to replace diesel generators with a high CO2-emissions, therefore making a significant contribution to the race-to-zero and decarbonization of the global economy.
---
Information Source: Read in Full –>
---
Oilandgaspress.com | Energy, Climate, Renewable, Wind, Biomass, Sustainability, Oil Price, LPG, Solar
Please use our attached online form.
Submit your Releases or contact us now!

Submit a Press Release
Follow us: @OilAndGasPress on Twitter | OilAndGasPress on Facebook