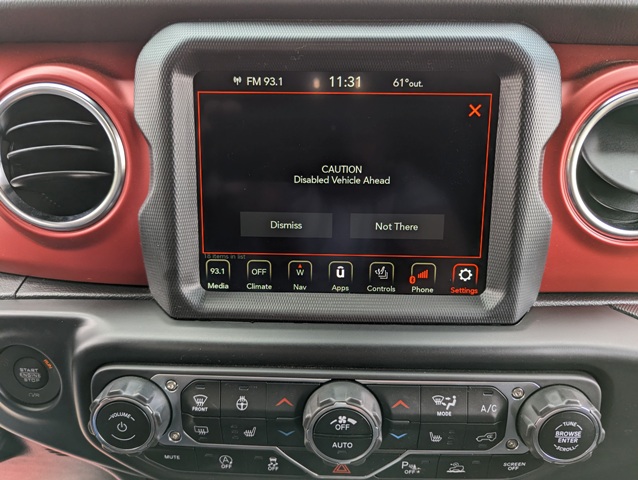 Stellantis Vehicles Equiped with Emergency Vehicle Alert System
More than 1.8 million Chrysler, Dodge, Ram and Jeep® brand vehicles on the road in the United States and Canada give drivers in-vehicle notification of an active fire truck, ambulance or other nearby roadway hazards with the Emergency Vehicle Alert System (EVAS) feature of the Uconnect connected vehicle platform.
A standard feature of Uconnect that keeps drivers of 2018 model year and newer vehicles safely aware of the environment around them, EVAS is an innovation that emerged from the Stellantis Star*Up program that nurtures and rewards employee innovation.
EVAS alerts come from HAAS Alert's Safety Cloud platform, a vehicle-to-everything (V2X) and digital alerting solution used by thousands of public and private roadway fleets in North America. In addition to emergency vehicles, Safety Cloud receives and delivers notifications from tow trucks, disabled vehicles, work zones and arrow boards, highway gates and other connected assets and equipment on the road.
Building on the EVAS foundation, Stellantis is now evaluating a next step in V2X active driver safety notifications with Hazard Enhanced Location Protocol (H.E.L.P. ®), working with Emergency Safety Solutions Inc.
H.E.L.P. delivers warnings to drivers approaching a disabled vehicle. Disabled vehicles stopped on the shoulder or roadway pose a significant danger to other drivers, particularly at night or when weather conditions reduce visibility – a situation that in the United States contributes to a crash an average of every seven minutes and kills or injures over 40 people per day, according to research published in Accident Analysis and Prevention, a peer-reviewed public health journal.
---
Information Source: Read More "
Energy Monitors , Electric Power , Natural Gas , Oil , Climate , Renewable , Wind , Transition , LPG , Solar , Electric , Biomass , Sustainability , Oil Price , Electric Vehicles,