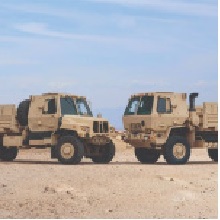 XL Fleet Awarded Pilot Project With Department of Defense to Prototype Fuel-Saving Technology for Tactical Vehicles
Department of Defense pilot program is part of a future contract opportunity to leverage the hybrid conversion technology for tens of thousands of vehicles in a variety of U.S. military applications
BOSTON–(BUSINESS WIRE)–XL Fleet Corp. (NYSE: XL) ("XL Fleet" or the "Company"), a leader in vehicle electrification solutions for commercial and municipal fleets, today announced it was awarded a contract by the Defense Innovation Unit (DIU) and The U.S. Army's Project Manager Transportation Systems (PM TS) to prototype a fuel-saving technology for military vehicles. After earning the opportunity through a highly competitive bidding process, XL Fleet is one of two companies awarded a contract to develop a pilot technology project over the course of the next year. This technology has the potential to be applied to tens of thousands of existing vehicles across a wide range of military applications. The pilot program began on October 1, 2021, and will run for 13 months.
The Department of Defense (DoD) announced the pilot program contract award on November 22, 2021, accessible here:
XL Fleet's contract is a part of the DoD's ongoing efforts to address some of the key fuel-saving efforts for its fleet of more than a quarter million military tactical vehicles. As these vehicles spend more than half of their operational time idling, they currently require significant amounts of fuel to run onboard electric power systems and to maintain cabin climate control. This reduces vehicles' range, creates significant costs, and drastically increases thermal and acoustic signatures of the vehicles, putting them at greater risk of detection in the field. Additionally, by enhancing fuel efficiency and limiting the amount of fuel consumed by its vehicles, the U.S. military can significantly reduce the logistical and transportation requirements of its fuel supply chain – a key source of logistical complexity and safety risk to personnel.
As part of the DoD pilot program, XL Fleet is currently developing a retrofit idle reduction technology for use in the Family of Medium Tactical Vehicles (FMTV), the U.S. Army's standard two-and-a-half to 10-ton trucks.
---
The hybrid conversion kits would be delivered to the DoD for installation by Soldiers on vehicles in the military fleet. The Program Executive Office for Combat Support & Combat Service Support (PEO CS&CSS), which includes PM TS, has expressed that this program may be a step toward further hybridization and electrification efforts, as the U.S. military moves toward sustainable energy solutions to extend the operational range of its tactical vehicle fleet, among other benefits.
"We are honored by the opportunity to compete for this highly selective U.S. Government contract to develop fuel-saving solutions for a wide range of applications for tactical military vehicles," said Tod Hynes, Founder and President of XL Fleet. "XL Fleet's proven technology, flexible platform and deep experience in applying sustainable technologies to fleet vehicles make us an ideal fit for the U.S. military's specialized needs for this project. We can help extend the operational range of their tactical vehicles, while supporting our troops' safety and providing significant fuel and operating cost savings and reducing greenhouse gas emissions."
---
About XL Fleet Corp.
XL Fleet is a leading provider of vehicle electrification solutions for commercial and municipal fleets in North America, with more than 170 million miles driven by customers such as The Coca-Cola Company, Verizon, Yale University and the City of Boston. XL Fleet's hybrid and plug-in hybrid electric drive systems can increase fuel economy up to 25-50 percent and reduce carbon dioxide emissions up to 20-33 percent, decreasing operating costs and meeting sustainability goals while enhancing fleet operations. For additional information, please visit www.xlfleet.com.
U.S. Department of Defense Disclaimer
This is an effort sponsored by the U.S. Government under Other Transaction number HQ0845-21-9-0033 between XL Fleet and the Government. The U.S. Government is authorized to reproduce and distribute reprints for Governmental purposes notwithstanding any copyright notation thereon. The views and conclusions contained herein are those of the authors and should not be interpreted as necessarily representing the official policies or endorsements, either expressed or implied, of the U.S. Government.
---
Forward Looking Statements
Certain statements in this press release may constitute "forward-looking statements" within the meaning of the federal securities laws. Forward-looking statements generally are accompanied by words such as "believe," "may," "will," "estimate," "continue," "anticipate," "intend," "expect," "should," "would," "plan," "predict," "potential," "seem," "seek," "future," "outlook," and similar expressions that predict or indicate future events or trends or that are not statements of historical matters. These statements are based on various assumptions, whether or not identified in this press release, and on the current expectations of management and are not predictions of actual performance. Forward-looking statements are subject to a number of risks and uncertainties that could cause actual results to differ materially from the forward-looking statements, including but not limited to; the effects of pending and future legislation; the highly competitive nature of the Company's business and the commercial vehicle electrification market; litigation, complaints, product liability claims and/or adverse publicity; cost increases or shortages in the components or chassis necessary to support the Company's products and services; the introduction of new technologies; the impact of the COVID-19 pandemic on the Company's business, results of operations, financial condition, regulatory compliance and customer experience; the potential loss of certain significant customers; privacy and data protection laws, privacy or data breaches, or the loss of data; general economic, financial, legal, political and business conditions and changes in domestic and foreign markets; the inability to convert its sales opportunity pipeline into binding orders; risks related to the rollout of the Company's business and the timing of expected business milestones, including the ongoing global microchip shortage and limited availability of chassis from vehicle OEMs and our reliance on our suppliers; the effects of competition on the Company's future business; the availability of capital; changes in the preliminary financial results for the quarter ended September 30, 2021 upon completion of the Company's financial closing procedures or upon review and completion of procedures by the Company's independent registered public accounting firm, and the other risks discussed under the heading "Risk Factors" in the Company's Annual Report on Form 10-K filed on March 31, 2021, as amended and supplemented by the 10-K/A filed May 17, 2021, and other documents that the Company files with the SEC in the future. If any of these risks materialize or our assumptions prove incorrect, actual results could differ materially from the results implied by these forward-looking statements. These forward-looking statements speak only as of the date hereof and the Company specifically disclaims any obligation to update these forward-looking statements.
Contacts
XL Fleet Media Contact:
PR@xlfleet.com
XL Fleet Investor Contact:
xlfleetIR@icrinc.com